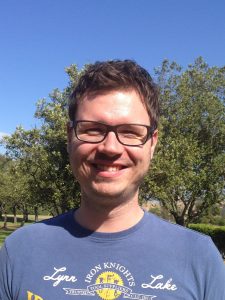 Postdoctoral researcher in the Efficient Computing and Storage Group
Johannes Gutenberg-Universität Mainz
Anselm-Franz-von-Bentzel-Weg 12
55128 Mainz, Germany
Telefon: +49 6131 39 29426
Email: vef@uni-mainz.de
About
Marc-André Vef is a postdoctoral researcher at the Johannes Gutenberg-Universität Mainz. He started his Ph.D. in 2016 after receiving his B.Sc. and M.Sc. degrees in computer science from the Johannes Gutenberg University Mainz. His master's thesis was in cooperation with IBM Research about analyzing file create performance in the IBM Spectrum Scale parallel file system (formerly GPFS).
During his Ph.D., he has worked on several projects focusing on file system tracing (in collaboration with IBM Research) and distributed file systems, among others. Most notably, he designed two ad-hoc distributed file systems: DelveFS (in collaboration with OpenIO), which won the Best Paper in its category, and GekkoFS (in collaboration with the Barcelona Supercomputing Center). GekkoFS placed fourth in its first entry in the 10-node challenge of the IO500 benchmark. The file system is actively developed in the scope of the EuroHPC ADMIRE project. He finished his Ph.D. in July 2023.
His research interests focus on file systems and system analytics.
Publications
2023
Jesus Carretero, Javier Garcia-Blas, Marco Aldinucci, Jean Baptiste Besnard, Jean-Thomas Acquaviva, André Brinkmann, Marc-André Vef, Emmanuel Jeannot, Alberto Miranda, Ramon Nou, Morris Riedel, Massimo Torquati, and Felix Wolf. 2023. Adaptive multi-tier intelligent data manager for Exascale. In Proceedings of the 20th ACM International Conference on Computing Frontiers. DOI
Marc-André Vef, Alberto Miranda, Ramon Nou, and André Brinkmann. 2023. From Static to Malleable: Improving Flexibility and Compatibility in Burst Buffer File Systems. In 2nd International Workshop on Malleability Techniques Applications in High-Performance Computing (HPCMall). Author/Publisher URL
Marc-André Vef. 2023. New techniques for tracing and designing HPC storage systems. DOI Author/Publisher URL
2022
Yingjin Qian, Wen Cheng, Lingfang Zeng, Marc-André Vef, Oleg Drokin, Andreas Dilger, Shuichi Ihara, Wusheng Zhang, Yang Wang, and André Brinkmann. 2022. MetaWBC: POSIX-compliant metadata write-back caching for distributed file systems. In Proceedings of the International Conference for High Performance Computing, Networking, Storage and Analysis (SC), 795–814.
2021
Frederic Schimmelpfennig, Marc-André Vef, Reza Salkhordeh, Alberto Miranda, Ramon Nou, and André Brinkmann. 2021. Streamlining distributed Deep Learning I/O with ad hoc file systems. In 2021 IEEE International Conference on Cluster Computing (CLUSTER), 169–180. DOI Author/Publisher URL
Tim Süß, Lars Nagel, Marc-André Vef, André Brinkmann, Dustin Feld, and Thomas Soddemann. 2021. Pure Functions in C: A Small Keyword for Automatic Parallelization. Int. J. Parallel Program. 49: 1–24. DOI
2020
2019
Mehmet Soysal, Marco Berghoff, Thorsten Zirwes, Marc-André Vef, Sebastian Oeste, André Brinkmann, Wolfgang E Nagel, and Achim Streit. 2019. Using On-Demand File Systems in HPC Environments. In HPCS, 390–398. Author/Publisher URL
2018
Marc-André Vef, Nafiseh Moti, Tim Süß, Tommaso Tocci, Ramon Nou, Alberto Miranda, Toni Cortes, and André Brinkmann. 2018. GekkoFS - A Temporary Distributed File System for HPC Applications. In IEEE International Conference on Cluster Computing (CLUSTER), Belfast, UK, September 10-13, 319–324. DOI Author/Publisher URL
Marc-André Vef, Vasily Tarasov, Dean Hildebrand, and André Brinkmann. 2018. Challenges and Solutions for Tracing Storage Systems: A Case Study with Spectrum Scale. ACM Transactions on Storage (ToS) 14: 18:1–18:24. DOI Author/Publisher URL
2017
Tim Süß, Lars Nagel, Marc-André Vef, André Brinkmann, Dustin Feld, and Thomas Soddemann. 2017. Pure Functions in C: A Small Keyword for Automatic Parallelization. In 2017 IEEE International Conference on Cluster Computing (CLUSTER), 552–556. DOI
2016
Marc André Vef, Vasily Tarasov, Dean Hildebrand, and André Brinkmann. 2016. Tracing of Complex Production Systems: Obstacles and Solutions. In 1st International Workshop on System Analytics and Characterization. Author/Publisher URL
Marc André Vef. 2016. Analyzing File Create Performance in IBM Spectrum Scale. Author/Publisher URL